Skilled Houston Estate Planning Attorney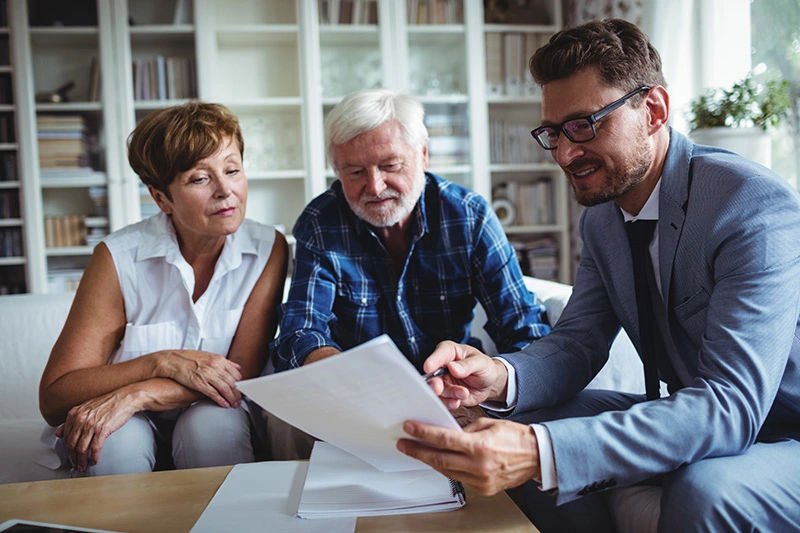 Many of us avoid thinking about our deaths and what will happen to our families after we are gone. However, planning for death can protect our families and can help ensure that they benefit from the assets we have built up over our lives.
Regardless of the size of your estate, you can maximize its value to your loved ones with a careful estate planning process. At the same time, you can also ensure that your family is made aware of your end-of-life wishes if you can no longer communicate them. This can also protect your family from conflict and uncertainty.
We know you have worked hard in your life to provide for your family, and what you leave behind is part of your legacy. The right estate planning attorney can help you protect it.
Speak to an Experienced Estate Planning Attorney Today From The Farias Law Firm
A good estate planning attorney will help you to ensure that your loved ones are taken care of after you are gone. At The Farias Law Firm, our experienced estate attorneys will work closely with you to determine what should be included in your estate plan.
We take a personalized approach and will review all of your options, explaining the advantages and disadvantages of each type of plan, so you can make informed decisions. There is no one-size-fits-all approach, and we will consider both your estate and your goals so that we can provide tailored advice.
The services that we provide include:
Estate planning
Creating living wills and advance health directives
Creating and administrating trusts
Creating and administrating wills
Guiding clients through probate
The Farias Law Firm is based in Houston, Texas, and we are proud to be able to offer our service in both English and Spanish. Regardless of the size or complexity of your estate, our attorneys can help.
Speak to one of our esteemed estate planning attorneys today by calling 713-364-3942.
What Are Estate Planning Law Firms?
An estate planning law firm is a law firm that offers services in estate planning, such as formulating wills and trusts. For people with large estates, their attorney may work with their financial advisor to maximize the benefit of their estate to their family. However, anyone, regardless of the size of their estate, can benefit from estate planners.
The first thing that comes to mind for most people when they think about estate planning documents is a will. A will is an essential part of planning for death. However, a will is subject to probate and estate tax. The probate process is a costly process that your family will need to go through to claim your assets in the event of your death.
Another option that could be available to you is to set up trusts, which allow you to gift assets to your loved ones without the need for probate. An estate planner can help you to determine what types of trusts could benefit you and will help you to optimize your wealth management so that more of what you have built goes to your loved ones.
Trusts avoid the probate process by gifting your assets to your loved ones while you're still alive. However, you can set conditions on them, such as the beneficiary not having access to the assets in the trust until after you die.
At The Farias Law Firm, we will take the time to understand your assets and your goals so that we can maximize the wealth you leave to your family.
We will also ensure that your wishes are clear so that your family has clear instructions for funeral arrangements, end-of-life care, and any other factors that are personal to you. Making your wishes clear could protect your family from a lot of stress and conflict.
How an Estate Planning Lawyer Can Help
Although you may choose to plan your estate without the help of an attorney, without the help of someone with estate planning experience, the process can be incredibly stressful, time-consuming, and expensive.
Additionally, when people plan independently, they may not have the knowledge necessary to explore all of their options, meaning that they are unable to maximize what they leave for their loved ones. It is common for families to lose a lot of their inheritance through probate and tax, which can be devastating if they rely on their loved ones' estate to maintain the same standard of living.
Some of the things your estate planning attorney can help you with include:
How your retirement plans or IRAs are handled
How your business will be divided, or who will take ownership of it
End-of-life wishes
Specifying conditions when or how your assets are used
Dividing your assets after you are gone
Charitable giving
Maximizing the assets your family receives by creating trusts
How debts will be paid
Paying for your funeral
Planning for your funeral
Dividing Assets
For many people, their first thought when planning their estate is how they will divide their assets. It can be a complex and daunting process, but an attorney can take you through it step-by-step.
The first thing your attorney will help you to do is divide your property into real and personal property. Your real property is your land, and real estate and personal property is all your other assets, such as vehicles, bank accounts, investments, and more.
Your attorney will help you determine what to leave in your will and which assets could benefit from creating trusts.
Creating a Will
A will is a legal document that specifies your wishes after your end-of-life care and death, including funeral arrangements and distributing assets that are not left in trusts.
A will is a legal document that must be witnessed and signed, and in the event of your death, it will also need to go through probate, which is a legal process that verifies it and oversees its execution.
One of the most important benefits of a will is the opportunity to specify your wishes. Examples include:
Your wishes for your funeral
Who the guardian for dependents, such as minor children, should be
An executor for the inheritance of any dependents
Assigning a power of attorney who will make decisions on your behalf if you are not able to make them yourself
Specifying your end-of-life wishes if you are unable to communicate your choices
Revocable Trusts
In a trust, assets are moved into the trust itself, and then the assets can be managed by the trustees. The most common type of trust is a revocable trust, also referred to as a living trust.
A living trust allows for flexibility, you can put your assets into a trust, and you can then add to them or take away from them at any time. However, this flexibility means that you are still the owner, and you are responsible for the fees and taxes associated with it. If a trust is still in place when you die, then it also remains part of your estate in the eyes of creditors.
However, a living trust does allow you to pass on assets after your death to your loved ones outside of the probate process. An attorney can advise you on the pros and cons of leaving your assets in a revocable trust, depending on your unique circumstances.
Irrevocable Trusts
Irrevocable trusts, on the other hand, do not have flexibility once assets are put into an irrevocable trust, they become the property of the trust. This provides extra protection from creditors and taxes. Your attorney can advise you on how irrevocable trusts could benefit your estate plan.
Estate Planning Attorney FAQs
What is the difference between a will and estate planning?
A will includes several documents which specify your wishes for your death and how you would like your assets to be distributed. Estate planning is more complex; while it includes a will, it also includes other aspects, such as establishing powers of attorney and creating trusts
What happens if I die without a will?
If you die without a will, your assets will be subject to the laws of intestacy, which pass on your assets to your nearest relatives. When this happens, your assets are distributed outside of anyone's control, it is also time-consuming and costly, and the fees are paid from your estate before it can benefit your loved ones. These laws do not consider your friends, grandchildren, significant other, or step-children, who will not receive anything.
I have a will – is estate planning still important?
It is a common misconception that only people with significant wealth can benefit from estate planning. Even if you have a will, estate planning can help maximize the benefits of your estate to your family after your death. It can also help further ensure that your wishes are followed in the event of your death.
Procrastination Can Lead To Devastation.
Contact The Farias Law Firm to Protect Your Family's Future Today
At The Farias Law Firm, we understand the importance of making sure that your family is cared for after your death. We will work with you to develop a plan that protects your assets for your family and clearly specifies your wishes for your end-of-life care and your death.
We will take the time to listen to your goals and offer advice tailored to your needs. Contact us today and arrange a consultation with an experienced estate attorney at 713-364-3942.