Take Control of Your Family's Future: Secure it with the Help of an Estate Planning Lawyer Houston Families Trust!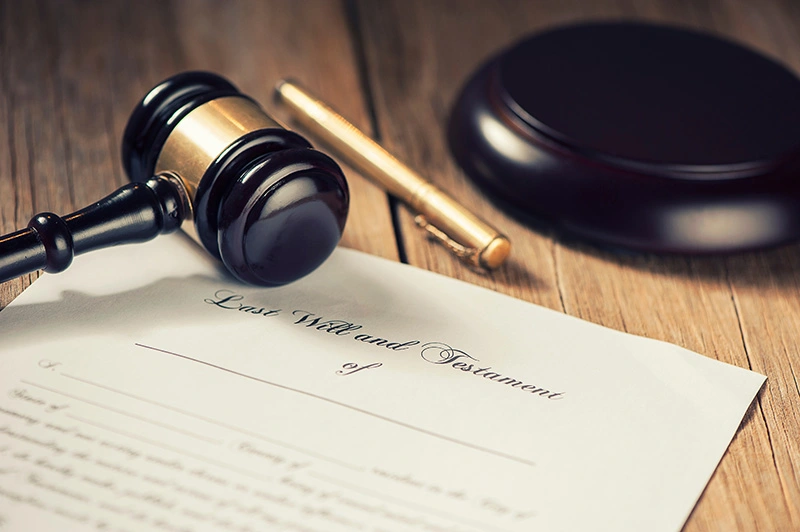 A will is a legal document that states who will inherit a person's property, money, and assets, known collectively as an estate. Along with naming beneficiaries, a will can name an executor who will manage the distribution of the estate to the beneficiaries. If an individual has children, a will can establish who will become the legal guardian of their children if something were to happen to them.
Following a death, a will can provide a family with a way of managing the passing of their loved one, along with helping them navigate the complicated legal process of handling an estate.
While writing a will may seem straightforward, if done incorrectly, the distribution of property, money, and assets can turn into a messy affair. If you or a loved one are debating if writing a will is right for you, our specialized estate planning attorneys can assess your circumstances and determine the best route for both you and your family.
Speak with one of our lawyers at The Farias Law Firm today, call 713-364-3942.
How Creating a Will Can Be Helpful to You
A will can not only soothe your worries about what will happen with the property and money you've gained throughout your lifetime but can ease the mourning process for your loved ones by making the logistical aspects of a death simpler.
Benefits of creating a will include:
Controlling Your Estate Distribution
A will defines who will manage your assets, as well as who will receive them. This ensures that your life's work is given to the people you chose, rather than distributed according to Texas intestacy laws.
Appointing a Legal guardian
In the case that you have children under the age of 18, a will can establish who will become their legal guardians and caretakers in the event of your death. When there is no will, the decision of who will become the guardian of your children can be left to a court.
Choosing an Executor
A will can name an executor who will manage the distribution of the assets in your will. The executor will be in charge of handling your estate, and money, and ensuring your wishes made in the will are met. It's possible for an executor to also be a beneficiary in a will, but in the case, there is no will or established executor, the court will appoint one to handle your estate.
Avoiding Family Conflicts
A clear-cut and legally valid will is sure to ease a family's worries, but can also prevent conflicts from arising around money and property. By stating your wishes directly in a will, you can sidestep any potential disagreements or misunderstandings among your family members.
Preparing for Taxes
Although taxes can greatly vary due to the worth of your estate, it is encouraged to consider what inheritance taxes may be applied to your beneficiaries and how you can structure your will to minimize them.
A will can ensure that your estate goes to those who are most important to you. However, it's important to work with an attorney experienced in estate planning to guarantee that your will is legally valid and fully reflects your wishes.
What Does a Probate Lawyer Do?
A probate lawyer is a state-licensed attorney trained in the process of probating estates after death. Probate attorneys can either work alongside executors to make sure a will is followed out properly or be directly named an executor in a will.
A probate lawyer can assist you with:
Estate planning – A probate lawyer can help you draft your will, trusts, and other estate planning documents, as well as handle any estate administration that will ensure your assets are distributed how you wish.
Navigate the probate process – Following a death, a person's estate will typically go through a probate law process. This involves making sure the will is valid, taking an inventory of the assets, settling any debts, and distributing all remaining assets to the beneficiaries. A probate lawyer can guide you and your family through this process while taking the lead on speaking with creditors, filing court documents, and settling disputes between beneficiaries.
Legal services and representation in court – Your probate lawyer can not only give you the best advice on how to plan and create your will but can protect you and your family in court in the case a dispute arises.
Working with a probate attorney can ensure that your rights are protected and the wealth you've gained is passed on to your loved ones without any major hurdles.
What Happens to an Estate Without a Will?
In Texas, if a person passes away without a legally valid will, their property and assets will be distributed according to Texas intestacy laws. These laws will typically distribute an estate as follows:
If you were married, your estate assets may or may not go to your spouse depending on if the property is community or shared property.
If you are single with children, your estate will pass to them equally.
If you are single without children, your estate will go to your parents if they are living. If you have only one surviving parent along with siblings, the estate will be divided between them.
If you have no surviving spouse or parents, then the estate will go to your siblings and their descendants.
If you have no surviving spouse, parents, siblings, or descendants of siblings, the estate will be divided and distributed equally to the closest relatives on both your father's and mother's sides.
In the rare case that a person dies without any surviving family, the property and assets will go to the state of Texas.
The Process of Making a Will
In Texas, the process of creating a will generally follow these steps:
Determine what property and assets you have – Before making your will, it's necessary to take an inventory of what property and assets you have. This extends to any real estate you own, bank accounts in your name, investments, and all personal property.
Establish who will be in your will – Determine who will be your beneficiaries and who you want to name as an executor. If minor children are involved, you must decide who you wish to become their legal guardians.
Consult and draft a will with an attorney – Although it is possible to make a will on your own, it's advised to work with an attorney experienced in probate and estate planning to affirm that your will is valid and will be managed the way you requested. You and your attorney can work together to draft your will and outline exactly how you want your estate to be distributed making sure no loose ends are untied.
Execute your will – Once your will is drafted, it must be signed by you and two witnesses. The witnesses will have to confirm that you were of sound mind when you signed.
Store your will – After completing the will, and signing it correctly, it's recommended to store it in a secure location where it can be easily accessed after your death. Similarly, it is advised to give a copy of your will to either the executor you named or a person you trust to carry out your requests.
While this is the standard process of making a will in Texas, laws regarding wills and estates can differ depending on the specifics. We highly recommend working with a lawyer trained in estate planning to avoid any potential mistakes that can compromise the validity of your will.
What Are the Requirements for a Will in Texas?
As in any state, there are requirements set in place to ensure a will is valid. The requirements in Texas include:
Capacity -The testator (the individual who wrote the will) must be at least 18 years old and of sound mind.
In writing – The will must be in writing, either handwritten or typed.
Signed – The will must be signed by the testator, or a trusted third party in the presence of the testator in case they are unable to sign for themselves.
Witnesses – The signing of the will must be witnessed and signed by at least two people who are not beneficiaries of the will.
Under Texas estate law, handwritten wills can be recognized as valid legal documents if they are completely written in the testator's handwriting and signed. However, wills of this nature have less legal backing and can be contested in court.
Revoking and Contesting a Will
The owner of the will can revoke it at any point by either creating and validating a new will or writing a revocation statement against the original will.
A will can be contested in probate court if there is evidence that it was made fraudulently, without a sound mind of the testator, or if any other unjust influence was involved in the making of the will.
Speak With a Lawyer Skilled in Estate Planning Today
Working with an estate planning attorney can provide you and your family with valuable legal resources, personalized advice, and a sense of security that your legacy will be in good hands.
An experienced will attorney knows how to best structure an estate plan to help you avoid any costly mistakes or family disputes, and for most cases, a will can be prepared for a flat fee.
Whether you have questions regarding the will process in Texas, or are ready to move forward with writing yours, consult with one of The Farias Law Firm wills attorneys today. With a wide range of practice in Texas law, our lawyers will know how to create the best will for you and your family.
Get in touch with our law firm today to discuss your estate options.
To schedule a consultation to learn more about creating a will, call 713-364-3942 or fill out our online contact form.
Se Habla Español.