Houston Child Custody Lawyers Fighting For Your Parental Rights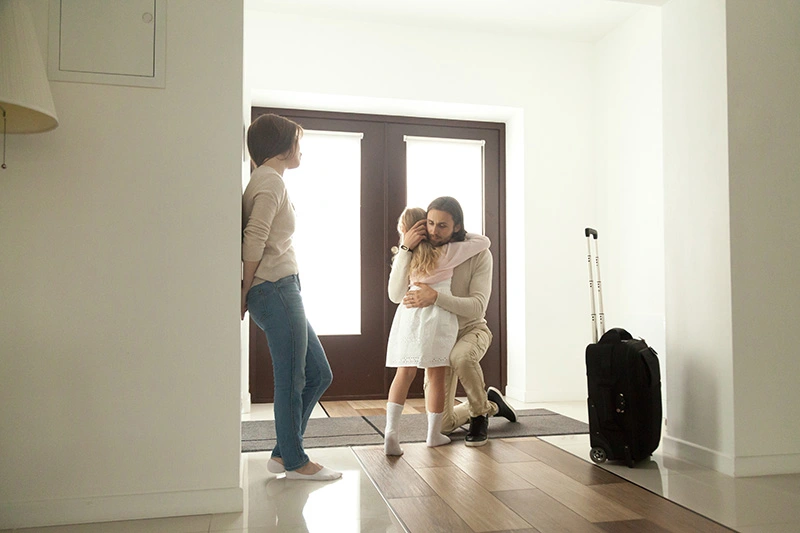 In the state of Texas, there are numerous forms of legal custody that a parent can have over a child such as sole managing custody, possessory managing, and  joint custody.
When a parent is granted sole custody (sole managing conservatorship) of a child, it typically means the child will only live with that parent, and all decisions will be made by them. The other parent is then usually granted restricted or limited periods of visitation with the child.
An alternative is joint custody (joint managing conservatorship), which gives both parents equal responsibility for their child's wellbeing and more input on making decisions for their child. This can be organized by having the child live with one parent while the other parent has access to them through regularly scheduled visits often called a Standard Possession Order, or by having the child live equal amounts of time in both parent's homes.
At The Farias Law Firm, we understand that the most important thing in a child custody case is what is best for the child. Our team of skilled child custody lawyers can help you protect your parental rights, get custody of your child, and defend you against any changes in custody that may be requested.
In a Houston child custody dispute, it is important to collaborate with an experienced law firm to ensure your views are taken into consideration. The Farias Law Firm is here to help you and your family. Our team strives to find an appropriate parenting plan that is best suited for you and your child's needs. By collaborating, we can ensure that the custody solution we come up with is fair to all parties involved.
Looking for legal advice regarding child custody matters in Houston, Texas? Contact us now to get in touch with one of our experienced and knowledgeable Houston child custody lawyers. Call 713-364-3942.
Protecting Your Rights In Child Custody Hearings
In Texas, parents have certain basic rights with respect to their children. These rights include:
1. The right to make decisions concerning the child's upbringing, including decisions regarding education, healthcare, and religious training.
2. The right to access and possess the child, which means the right to spend time with the child and to have physical custody of the child.
3. The right to receive information from any other person who has access to information about the child, such as teachers, doctors, or counselors.
4. The right to consent to the child's marriage, enlistment in the armed forces, and medical and psychiatric treatment.
5. The right to receive child support from the other parent, if applicable.
It is important to note that these rights can be limited or modified by court order if it is determined to be in the best interests of the child. Additionally, if the parents are not married, the father may need to establish paternity before he can exercise these rights.
At The Farias Law Firm, we believe that child custody cases should always focus on the best interests of the child but not to the exclusion of the parent's wishes. The best way to make sure that your wishes are taken into consideration is to work with a law firm experienced in negotiating parenting plans. With The Farias Law Firm as your guide, we can help you arrive at a child custody agreement that is right for your child and for you.
Negotiating A Child Custody Agreement
Coming to an agreement on custody and visitation rights can be fraught with emotion. One of the biggest challenges is to remain calm and take your ego out of the equation. Emotional outbursts stifle progress when you're negotiating a custody agreement and kill your chances of getting the terms you're looking for in the courtroom. Family court judges have no tolerance for drama.
The best custody agreements come through informal negotiations or mediation between the parents. We do everything in our power to help you negotiate an agreement before you see a judge, but we will also be prepared to represent you in court if it comes to that.
Is There Texas Jurisdiction?
Under the child custody laws under the Uniform Child Custody Jurisdiction and Enforcement Act, Texas courts can consider a child custody case only if the minor has been living in the state for at least six months before filing. This law can apply to cases where parents reside in different states.
However, if Texas courts do not have jurisdiction in your child custody matter, they can still hear the case temporarily if your child is in danger and needs protection.
Traveling out of state for a legal hearing can be costly, with expenses including hotels and transportation. Keeping your case within Texas jurisdiction eliminates travel issues and allows you to stay closer to home, saving time and money.
When is a Child Custody Trial Necessary?
When parties in a custody battle cannot come to a mutual decision regarding the conservatorship of their children, it may be necessary for a court to make a ruling. However, if taken to court, the decision on what type of arrangement is best for the children will be decided solely by the court.
When bringing a child custody case to court, it is essential to have a knowledgeable lawyer by your side. If you and the opposing party cannot reach an agreement, a lawyer can help you navigate custody filing and the court process.
If going to family court for a decision is not ideal, you may want to explore other options. Our experienced negotiators can work with your ex's lawyer to come up with an amicable agreement that is mutually beneficial. This way, both parties can be happier and achieve their desired outcome.
If a resolution cannot be achieved without involving a court, court-ordered mediation may be mandated. Negotiating and making a good-faith effort at problem-solving through mediation is usually required before heading to family court.
Child Custody in Texas
In Texas, custody is referred to as "managing conservatorship". It can take the form of sole or joint management, depending on if one or both parents handle decisions related to the child. If only one parent has managing conservator rights, then they are considered to have sole custody.
When one parent is the primary custodian, the other typically has limited access and is considered a possessory conservator. To avoid confusion, this type of arrangement is typically referred to as custody and visitation rights instead of conservatorship and possessory rights.
Joint Custody Preference
Texas law has a preference for joint custody in child custody disputes. Courts are more likely to appoint both parents as joint managing conservators if it serves the best interests of the child.
When it's not in a child's best interest for their parents to share legal custody, the court may decide that only one will have this responsibility. The other parent is usually granted visitation rights as determined by the court.
Rights of Custody
Rights of Custody is a legal term that means that joint-custody parents share parental rights and responsibilities. These rights extend to decisions on the religious upbringing, consent to medical treatment, and education of the child.
In instances where parents are granted joint child custody, a court can still assign the power to make certain decisions regarding the child to one parent when both parents do not agree.
Visitation
Many parents can come to an agreement regarding the visitation schedule for their children during a child custody case. This can be done through mutual understanding and collaboration.
Uncooperative behavior between parents can lead to a challenging situation, where visitation or rights can be at risk due to unreasonable demands. If this occurs, it can lead to a violation of your visitation rights.
Child Custody Modification
Modifying a court's initial child custody award is possible if certain criteria are met. The court has the authority to alter the orders if there have been significant changes in circumstances or evidence that an existing arrangement is not working.
Kids aged 12 or older have the right to designate which parent they would like to stay with primarily, but the Court still must determine that the child's designation is in their best interest..
Generally, to gain a legal custody change, the parent must be able to demonstrate to the court that it is in the best interests of the child.
No Gender Preference
In the past, the courts used the 'tender years doctrine' to award custody of younger children to mothers. However, Texas now requires judges to make decisions based on what best suits the interests of the child. This has opened up more opportunities for fathers to receive custody awards if they are qualified to care for the kids.
To further enforce gender neutrality, the Texas Legislature passed legislation making it forbidden for courts to consider gender when deciding on custody cases. This "without regard" law ensures that all decisions are unbiased and made fairly.
Child Support
While Child Support and Child Custody are two distinct concepts, they are related in the sense that the parent not living with the child primarily may be obligated to provide financial support for the child's upbringing. This payment is known as 'Child Support'.
However, the Texas legislature passed a law stating that visitation rights cannot be denied if the non-custodial parent fails to pay child support. The legislature determined that maintaining the relationship between the parent and child is more important than timely child support payment.
Custodial parents are not allowed to deny noncustodial parents access to their child due to nonpayment of child support. This ensures that both parents have a chance to continue their relationship with the child regardless of finances.
Determining Custody
Determining custody is a life-altering decision for families. The court looks at many factors before deciding on custodial rights. These can include the child's relationship with each parent, the living situation of each guardian, and any medical or psychological needs of the child.
In order to help the court decide who should have control over decisions regarding a shared child (or if they should be in the hands of one parent, jointly or independently), you will likely need to provide evidence. This is especially necessary when opinions differ and it's not easy to discern who is in a better position.
In cases where one parent is more competent in providing care for a child, there may be clear-cut facts that make matters easier for the court to decide on.
If one of the parents is more active in a child's life, such as attending school events, taking them to doctor's appointments, or joining extra-curricular activities, the court will likely grant more custody rights to that parent.
The testimony of witnesses who have an understanding of the family's lifestyle can be very useful. As such, a parent must have a comprehensive knowledge of all people who play an integral role in the kid's life while going through litigation.
Witnesses in a Child Custody Dispute
Collateral witnesses can be useful in providing objective insight into the welfare of a child if the parents or legal guardians are in disagreement. Such observations can help identify key issues that need to be addressed.
A third-party witness, such as a teacher, may be required to testify as to which parent is more suitable, and which is less suitable, according to their perception.
Collateral witnesses may be called upon to provide a better understanding of the child's life situation. This allows the court to make an informed decision on what is in the child's best interests.
It is important to remember that third parties such as friends, teachers, and coaches may not always present the same level of knowledge and authority in court as they did when speaking with you in a comfortable setting. The atmosphere in a courtroom can be intimidating, especially for those who are not directly linked to the court case. Think carefully about which witness to include in providing affidavits or testimonies.
Court proceedings can be a real struggle for those not directly a part of the dispute. Witnesses may need to take time off work and cover the cost of travel, and other expenses. To provide the necessary evidence, the most suitable form of testimony might be from a qualified specialist or other expert witnesses.
Specialists and Expert Witnesses
Expert opinions often carry a lot of weight in the courts and can be relied on to provide significant insight. However, the services of experts can be costly.
Mental health experts such as psychologists, psychiatrists, licensed professional counselors, licensed professional social workers, and parenting facilitators have the necessary training when it comes to handling family law custody litigation.
When dealing with custody matters, a specialist's professional opinion can be invaluable to the court in making an informed decision. However, to reach an accurate conclusion, the specialist must meet all key parties involved – both parents and the children.
Contested Child Custody Cases
When deciding who gets custody of a child, it's important to understand the potential ramifications both for the child and their entire family. Child custody disputes can lead to significant changes in lifestyle and living situation, impacting everyone involved. Contested child custody issues can range from disagreements concerning living arrangements, visitation arrangements, supervised visitation stipulations, who is the primary caregiver, and ultimately who gets custody.
In cases of contested child custody cases, the parties involved rarely present the case by themselves. Such a dispute typically demands experts, witnesses, and specialists to help the court reach a fair conclusion.
In a contested custody case, the coordination and arrangement of numerous elements and individuals can be quite time-consuming. It is beneficial to consult with a Houston child custody attorney to analyze your strengths and weaknesses in detail, to maximize or minimize them for the best possible outcome.
When discussing matters related to your child, it is important to remember that any judgments made will likely be kept for a long time. Modifying a child custody order can be difficult once it has been finalized.
Child Custody Lawyer Costs
The cost of hiring a child custody lawyer can vary greatly depending on the complexity of your case. Custody attorney costs can range anywhere from $3,000 to $40,000.
When it comes to resolving custody disputes, lawyers normally charge an hourly rate. The more quickly you resolve the dispute, the lower your overall cost will be. However, if your case goes to trial, you should expect to pay more than if you settled earlier.
In certain child custody cases, long legal battles can ensue. This can stem from either side accusing the other of child abuse or neglect, domestic violence, or failing to reach an agreement on child custody arrangements.
If you are looking for cost-effective options, then uncontested or mediated custody cases are the way to go. Mediation services can be done efficiently and affordably, saving both time and money compared to a full court trial.
During a child custody dispute, the advice and expertise of an experienced attorney can be invaluable in aiding you to secure the best possible result. Investing in professional legal services is highly recommended, considering the importance of your children. Taking a risk by opting for cheaper options can have serious consequences for you and your family.
Representing Unmarried Co-parents
Child custody cases where the parents are unmarried always begin with resolving paternity. If both parents have signed an acknowledgment of paternity (AOP) form and there is no dispute, custody hearings move forward the same as if the couple was married. If there is a dispute over who the father is, the paternity case goes to family court where a genetic test may be ordered.
When paternity is established between unmarried co-parents, custody hearings are carried out in the same way as hearings between divorcing couples. The Texas courts work on the assumption that it is always in the best interests of the child to have a relationship with both parents regardless of whether they were ever married.
Speak With an Experienced Houston Child Custody Lawyer
The Farias Law Firm is a top-notch option for those in need of Houston custody lawyers. Our law firm provides customized legal advice and personal support to ensure that our clients come out on top in their cases.
At our firm, we provide thorough legal counsel to ensure that you have all the necessary resources to feel secure and worry-free. Our creative problem-solving approach allows us to find innovative solutions for your unique circumstances.
Ending a marriage and dealing with the legal aspects of custody can be difficult. To make it easier, our team provides unbiased and comprehensive advocacy and trustworthy advice.
The Farias Law Firm is the ideal choice for all your family law related needs. Your satisfaction is our top priority and we always strive to put your interests first. We have experienced Houston child custody attorneys who are ready to assist you; contact us at 713-364-3942 or fill out our online contact form.
Se Habla Español.